The 2016 Recap and Strategy Session You've Been Waiting For
The 2016 Recap and Strategy Session You've Been Waiting For
Posted by

adrinker
It's May Already? Let's Recap and Talk Strategy
Time is flying by…I cannot believe we are already two weeks into May! Our Team is always running so fast, we often forget to pause for that moment of reflection each month. So here we are, finally taking that minute to elevate ourselves from the day-to-day tactics to recap and talk strategy.
First let's start with a little review…
YEAR-TO-DATE
STATS
The RevResponse Publisher Network has increased lead volume 104% year-over-year! Digging deeper into this year's 4 month trend versus the prior:
Sessions +20% | Users +10% | Pages / Session +8%
The Network's increased engagement has correlated to 25% higher 'content requests per form' (phenomenal growth!)
TOP 5 CONTENT CAMPAIGNS
1. Ransomware Hostage Rescue Manual
2. Online Penetration Testing and Ethical Hacking - FREE Video Training Course
3. Computer and Hacking Forensics - FREE Video Training Course
4. 6 Steps to an Effective Performance Monitoring Strategy
5. How to Build a Strategic Account Plan
WELCOME ABOARD
We'd like to highlight a group of the newest publishers to join RevResponse with goals of developing and advancing their audience monetization strategies with content. We are thrilled to see the RevResponse message resonating and thriving throughout the digital publisher world. Welcome again to the following:
PROJECTS, RESOURCES, AND RESEARCH:
REDESIGN
A main driver of excitement this year has spiraled from the complete TradePub.com redesign. This head-to-toe facelift encompassed powerful front and back-end improvements, including: new content discovery modules, refined audience targeting algorithms, streamlined request funnels and increased conversions rates.

As mentioned above, the increased 'content requested per form' stat, up 25%, is an excellent representation of the improved content discovery and targeting engine leading to increased earnings per form.
SEARCH
In addition to the major redesign, we snuck in a brand new predictive search tool on TradePub.com. This functionality has been in the works for quite some time now and we are thrilled to be offering this advanced service for you and your audience. If you haven't had a chance, take it for a spin – we think you'll be more than satisfied with this new content discovery engine (available on all pages as well as the search page.)
LIFESTYLE CATEGORY
Not that all of the above isn't exciting…but THIS is really fun! A new lifestyle category is now available on TradePub.com. This new destination has been created to expand our professional solution library to topics outside of the office. While remaining deeply connected to our research, learning, and improvement focus, the TradePub library will now tackle topics including: personal finance, stress management, motivation, product reviews, and more. We encourage you to review the resources available and tell us what you think!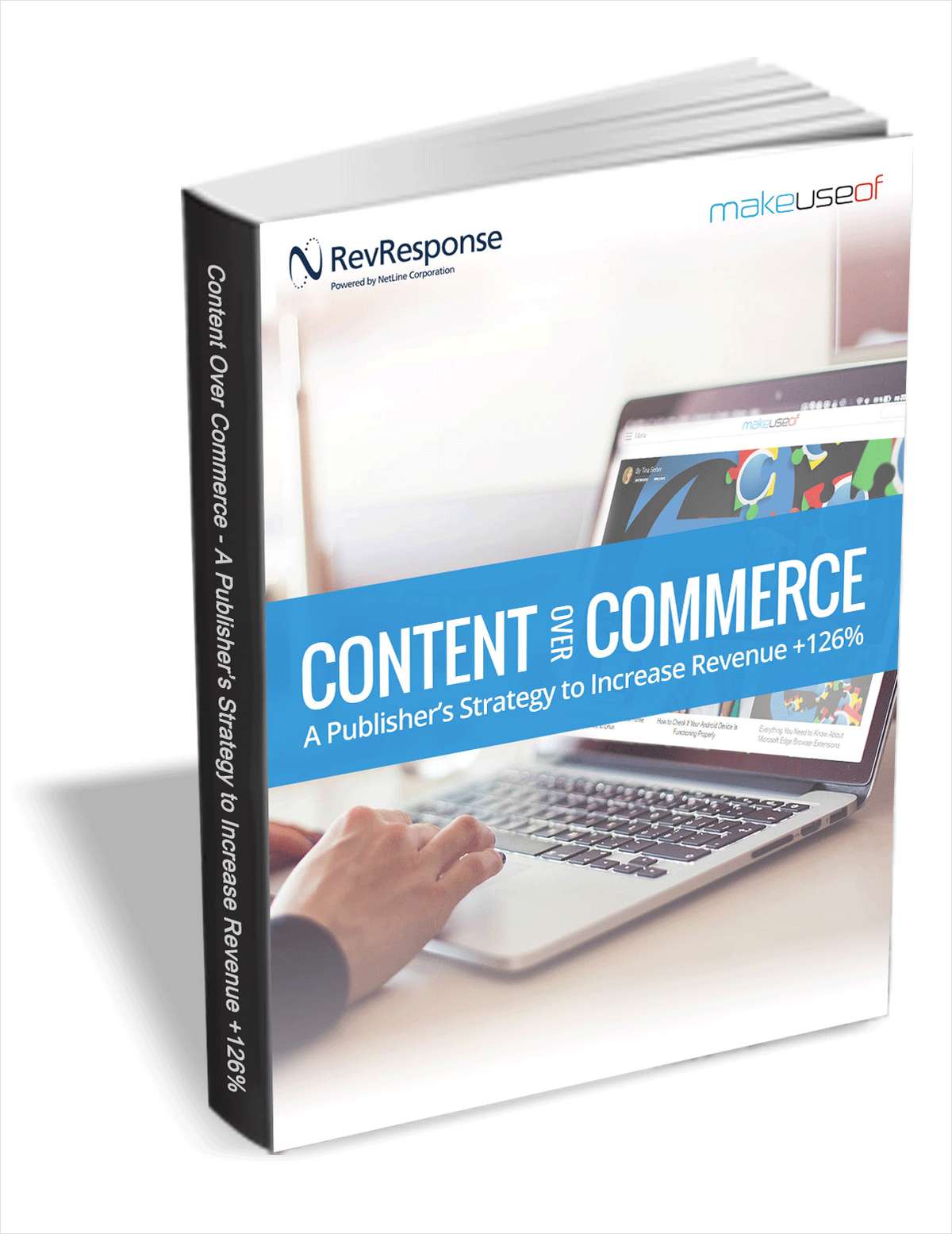 CASE STUDY
Have you heard – RevResponse and our publishing partner MakeUseOf teamed up on a case study aimed at tackling the debate in content vs. commerce monetization strategies. We had a great time working with MakeUseOf CEO, Jackson Chung, executing an AB Test in their email newsletter to measure the engagement and earning deltas between RevResponse content campaigns and top commerce affiliate deal promotions. If you haven't already DEFINITELY take a minute to read the case study, you will be shocked and possibility inspired to test new strategies in your email newsletter, among other assets.
LET'S TALK STRATEGY
VISUALS
For the past 12 months we have been recommending a greater focus on "visuals". Visual presentation is so important in digital publishing and marketing.

Content with relevant images gets 94% more views than content without relevant images. (SOURCE: KISSMETRICS)

Our concentration on visual presentation has been implemented across all TradePub.com touch points as well as new visual updates for RevResponse RSS Newsletter partners. RevResponse is getting ready to publish a new report in collaboration with TheHackerNews on RSS email templates – in short we found that the incorporation of visual assets in the email template drove statistically significant higher engagement levels with readers. Talk with your Account Manager today about improving your email newsletter with visuals.
CONTENT VS COMMERCE
We said it once, we'll say it again – diversify your monetization strategy with content. As a RevResponse publisher you are already on the "bandwagon" but maybe you can go even further? Review your monetization mix across all audience touch points, for example: email, editorial posts, social posts, confirmation pages, etc… Plus, take look at your frequency. Want to talk it over with a monetization expert? Let's do it! Contact us today and we will walk you through best practices and untapped opportunities we see in your strategy.
EDITORIAL
Never before has editorial been so powerful. The combination of native first-party content and positioning, plus the increased popularity of ad blocking software has elevated the importance of this form of "promotion." Your loyal audience has discovered and connected with your platform – build the dialogue and connection by including your voice and perspective in editorialized posts. It's your competitive advantage, use it and own it! Peruse the Offer Catalog to find content of inspiration and relevance to your audience's interests/needs.
TEST, TEST, TEST
As always, we recommend testing! Try to incorporate at least one test into each month – big or small. If you're not testing, you're not learning, if you're not learning you're not improving.
THANK YOU: I hope you found this update beneficial and more importantly motivating. There are so many opportunities available to you as a publisher and member of the RevResponse Network - capitalize on them! Plus, the RevResponse Team is always ready to jump in and talk strategy, let us know how we can help. Signing off for now, but you can always find us on Twitter talking strategy @RevResponse.

See you out there,
The RevResponse Team