Week 2: More Hot Offers to Promote and Win!
Week 2: More Hot Offers to Promote and Win!
Posted by

adrinker
Partner Challenge Update
We are kicking off week 2 of the June Partner Challenge with an exciting new sweepstakes. Plus, today two additional hot offers have been released and are ready for promotion! Check out the details and start promoting today.
Sweepstakes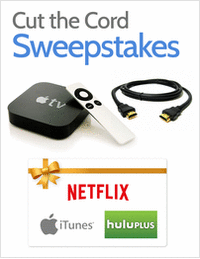 New "Cut The Cord" Sweepstakes with (4 Winners!)
It's the perfect time of year to cut the cable cord and take advantage of streaming services – and here's your chance! All Audience types will be interested in this sweepstakes offer – plus there will be a winner chosen every week in June!
The Cut The Cord Entertainment Pack includes:
-- Apple TV Bundle, including Apple TV, HDMI cord, and remote control
-- 1 year subscription to Hulu Plus
-- $100 Netflix gift card (add this value to your existing account or sign up as a new user) -- $200 iTunes gift card to be used on your choice of Apple TV apps like HBO Now, Watch ESPN, MLB.TV, NFL Now, and many more

**Entertainment Pack is a $500 value - 4 Winners Chosen - US Audiences Only - Ends June 30th 2015**
Hot Offers: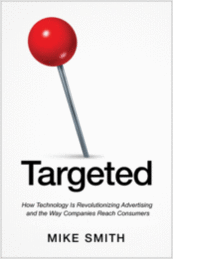 Targeted: How Technology is Revolutionizing Advertising and the Way Companies Reach Customers
A split second is all it takes to reach the right consumers. From keyword micro-markets and ad serving systems to aggregated virtual audiences and new business models, Targeted is sweeping in scope and stripped of technical complexity.
$24.95 value!
FREE for a limited time.
Applicable for Marketing/Advertising/Sales Professionals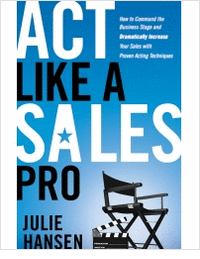 Act Like a Sales Pro
Learn how to command the business stage and dramatically increase your sales with proven acting techniques.
$16.99 value!
FREE for a limited time.
Applicable for Sales Professionals


Next Up...Check back daily for hot new releases!
Thank you to all of our Challengers this month – June is sure to be the largest Challenge yet! Luckily, this is not a competition among Partners – in fact, this Challenge is all about beating your own past earning records.
The Fine Print:
The June Partner Challenge is for RevResponse Partners only. To be eligible to win, Partners are required to sign up by sending an email to PartnerChallenge[at]revresponse[dot]com; Partners must sign-up by Monday, June 1st 2015. To win the prize you must meet or exceed the goal listed in your invitation email by end of day June 30th 2015. All prizes will be awarded as a cash value via PayPal or check. All Partners that meet their goal will be informed by Tuesday, July 7th 2015. Prizes will be released by Tuesday, July 28th 2015.
(Note: If you have not received a Partner invitation via email, please contact the RevResponse Team by Monday, June 1st 2015.)