Frustrated with FeedBurner? Switch to RevResponse's RSS to Email tool and Get $100 for Every 1,000 Subscribers
Frustrated with FeedBurner? Switch to RevResponse's RSS to Email tool and Get $100 for Every 1,000 Subscribers
Posted by

yasmine
What would YOUR newsletter look like with our tool?
Simply enter your RSS feed below and find out!
We all had high hopes for FeedBurner when it was acquired by the mighty Google back in 2007. Instead of thriving, it has dwindled before our eyes. In the last week alone, FeedBurner announced it will be shutting down its API and then content publishers long and wide lost their statistics. To add insult to injury, they also decided to stop offering Adsense for feeds a couple of days ago as well. The service has been neglected, unsupported and in return, it has become outdated.
RevResponse's RSS to Email Tool:
We're proud of the RSS to Email tool we launched last year. It has everything FeedBurner offers plus a little extra. Some of the features include: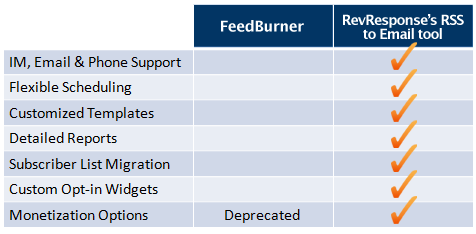 We know how important your subscribers are to you and how time-consuming it can be to switch to another provider. So went ahead and made it as easy as possible by not requiring readers to re-opt in to your list. You can see for yourself how easy it is to export your FeedBurner list in our SlideRocket presentation and how easy it is to setup in our RSS to Email tool video tutorial.
Our RSS to Email tool also monetizes your feed effortlessly with magazines, ebooks or white papers that relate to your content and your readers' interests. Preview it for yourself above to gain an idea of what it could look like. Keep in mind everything can be customized to fit your needs.
Switch from Feedburner and get $100 for every 1000 Subscribers
There are many reasons to switch and to give you that extra push, we're offering a $100 bonus for every 1000 names you import to our service. So what are you waiting for? Sign up for free, get paid and enjoy a painless experience.
It may look like just another way to take your RSS feed and turn it into an email newsletter, but there's more to it than that.
JohnChow.com
I'm recommending this Feedburner Alternative that takes [RSS to email tools] to a new level. It's nearly as powerful as a professional email marketing service, but with one major perk: It's free!
Noobpreneuer.com
I want to switch to RevResponse now!
Setting up the RSS to Email tool
Transfer your subscribers list to RevResponse and let your Account Manager know (he or she can be found under the "My Account" tab of your profile). He or she will work with you to ensure your list is setup properly and optimized. You can start the process with this step-by-step video detailing how to best export your existing FeedBurner email addresses:
The terms and conditions of this offer are:
This offer is only valid for partners who utilize the RSS to Email tool starting on October 4, 2012. For new partners, your signup application must first be approved.
To be eligible for this offer, a screenshot of the FeedBurner statistics as well as the exported list must be provided for verification. Email addresses must be deliverable and deemed active. In addition, a newsletter must be run consecutively for 2 months and the opt-in box has to be displayed prominently on the site.
The bonus offer cannot exceed $1,000. It will be paid separately from your commission payments after 60 days from the start of the campaign.
Related posts: